Main Contact:
Ty Pell, Barbara Moore, Diane Ward
Hours:
Monday - Friday, 8:00 a.m. - 4:00 p.m.
E-mail:
linda.mendenhall@adamscountyoh.gov
Address:
215 North Cross Street Suite 102 West Union, OH 45693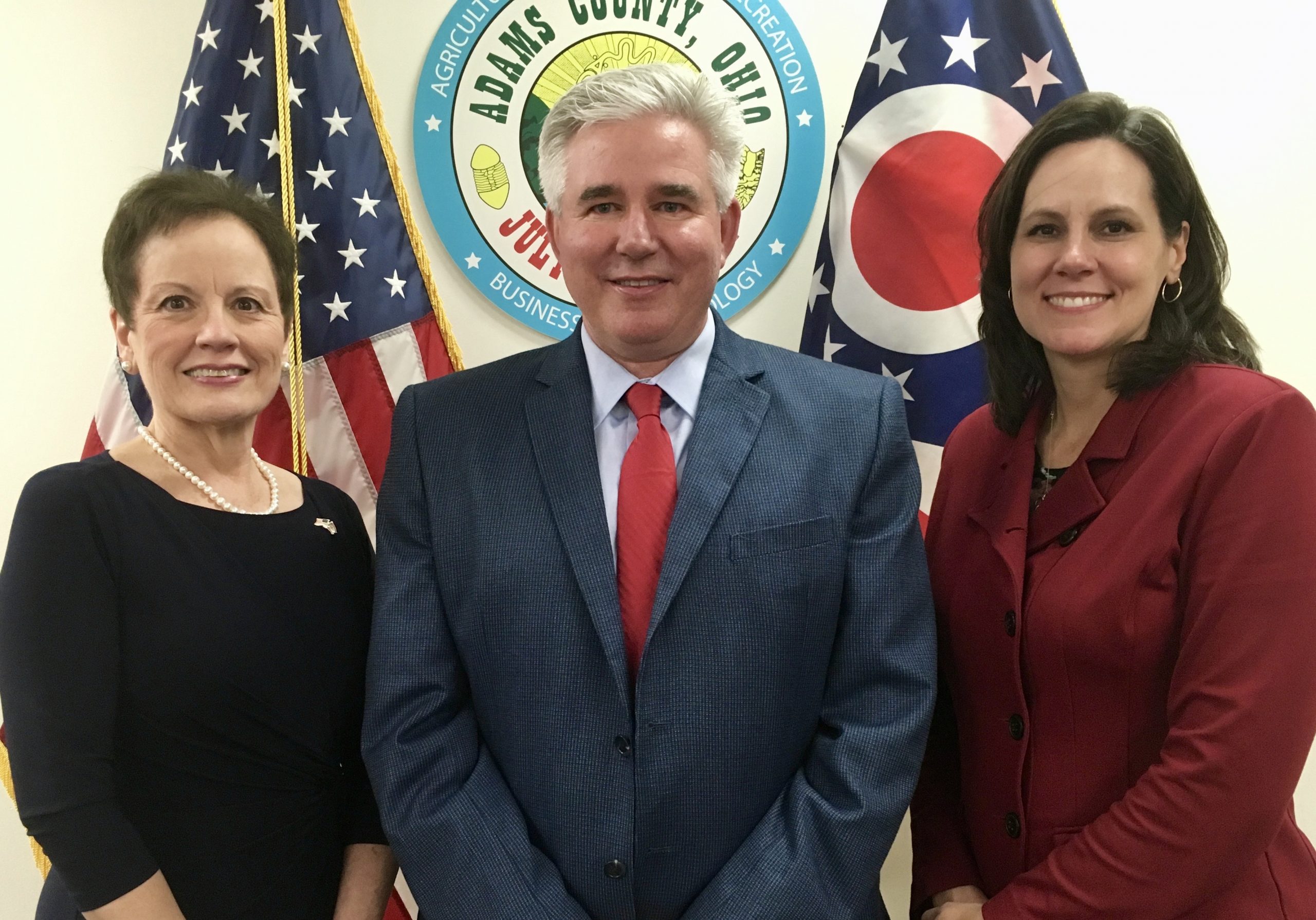 Currently serving commissioners are Ty Pell, Diane Ward, and Barbara Moore.
Vision Statement: To provide the citizens of Adams County the highest quality of life by promoting: economic development; fiscal responsibility; preservation of natural resources; education; culture and diversity; and health and public safety.
Mission Statement: Adams County government serves all its citizens by exceeding expectations through the process of representation with the highest standard of ethics and service.
Email:
Ty Pell term 1/1/19-12/31/22
ty.pell@adamscountyoh.gov

Barbara Moore term 1/3/17-1/2/21
barbara.moore@adamscountyoh.gov
Teresa Diane Ward 1/2/17-1/1/21
diane.ward@adamscountyoh.gov
Linda Mendenhall (Clerk)
linda.mendenhall@adamscountyoh.gov
Terri Crothers (Clerk)
terri.crothers@adamscountyoh.gov
2020 REGULAR SESSION MEETING DATES:
RESOLUTION 2019-475
January 6, 13, 21, 27
February 3, 10, 18, 24
March 2, 9, 16, 23, 30
April 6, 13, 20, 27
May 4, 11, 18, 22
June 1, 8, 15, 22, 29
July 13, 20, 27
August 3, 10, 17, 24, 31
September 8, 14, 21, 28
October 5, 13, 19, 26
November 2, 9, 16, 23, 30
December 7, 14, 21, 28
The regular meetings will be conducted in the office of the Adams County Board of Commissioners and will commence at 9:00 a.m. until the business is completed:
2020 HOLIDAY CLOSURES APPROVED
RESOLUTION NO. 2019-476
January 1, 2020-New Year's Day
January 20, 2020-Martin Luther King Day
February 17, 2020-Presidents Day
April 10, 2020-Good Friday/Close @ Noon
May 25, 2020-Memorial Day
July 3, 2020- Independence Day
September 7, 2020- Labor Day
October 12, 2020-Columbus Day
November 11, 2020-Veterans Day
November 26-27, 2020-Thanksgiving
December 24-25, 2020- Observe Christmas
December 31, 2020- New Year's Eve/Close@Noon